WHOIS Database Download
Domains Index now provides users with access to its WHOIS Database Download services. Since 2016, we have been collecting data that you can download in the form of lists in CSV format. These lists can be easily integrated into your existing solutions and systems.
Each database download comes with WHOIS records that give you details on the domain of your interest:
Registrant and contact details

Status

Nameservers

Creation, update, and expiration dates

Registrar

Administrative, technical, and billing contact and details
Each contact's details include:
Name

Organization

Street address

Email address

Phone number
For more details, take a look at a sample dataset below in CSV format: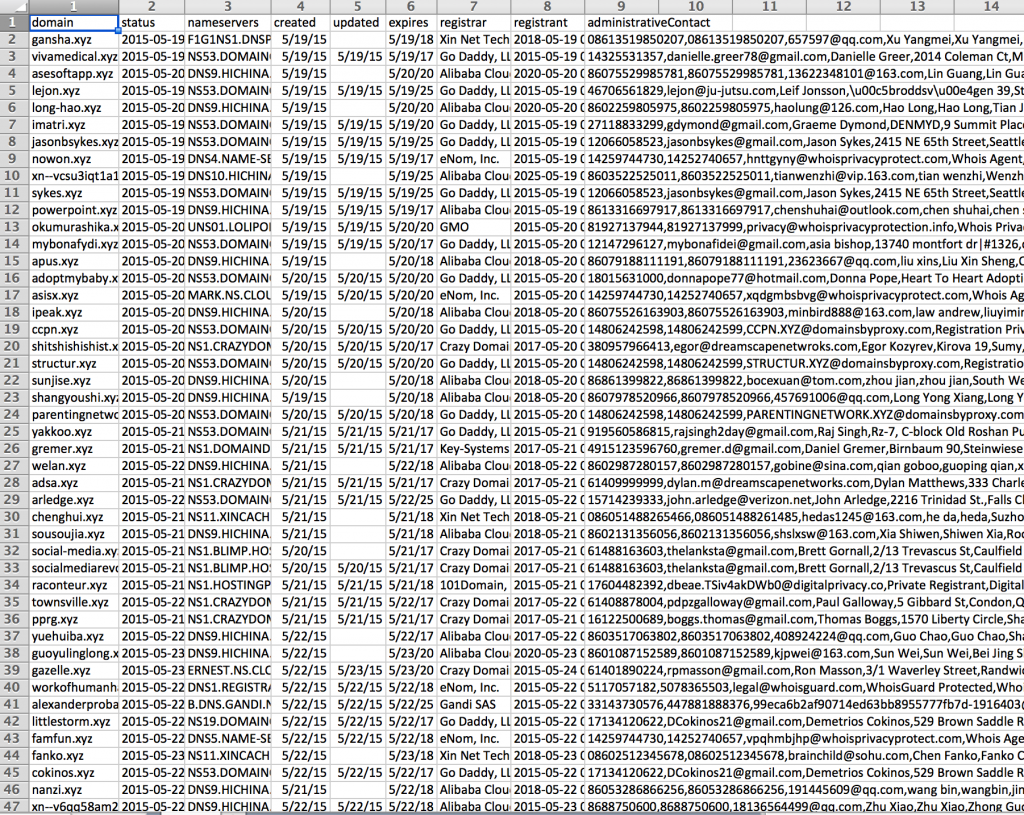 With the help of our WHOIS Database Download options, get detailed information on a particular domain without hassle in order to fulfill your organization's cybersecurity, marketing, domaining, brand protection, and other requirements.
Practical Uses

Want to spot fraudulent activities before they do harm to your organization? Integrate the database into your payment processing and fraud solutions for cross-checks.

Domainers seeking new domains to purchase can get up-to-date information from WHOIS records to scope out the market.

Want more information on a competitor?

WHOIS Database Download options

can provide you with a list of company websites as sources of information on what your business rivals are up to.
Bulk WHOIS Database Download Bundles
Our bulk database contains close to 280 million WHOIS records that you can download as an entire package or in customized packages (by TLD categorization), depending on your data needs.
| | |
| --- | --- |
| Download description | # of records (approx.) |
| Bulk Download Whois Database Entire Dataset | 280MM |
| Bulk Download Whois Database of gTLD Domains (including newGTLDs) | 200MM |
| Bulk Whois Database of ccTLD Domains | 80MM |
gTLD WHOIS Database Download Options
We have close to 200 million WHOIS records for gTLD domains. For more information on package types, consult the table below:
Domain

Description

# of records (approx.)

Bulk Download Whois Database of all gTLD Domains

200MM

.com

Commercial domains Whois Database

140MM

.net

Network domains Whois Database

14MM

.info

Informational domains Whois Database

5.5MM

.biz

Business domains Whois Database

2MM

.mobi

Mobile devices domains Whois Database

500K

.asia

Asia-Pacific domains Whois Database

220K

.tel

Communication domains Whois Database

80K

.name

Individuals domains Whois Database

35K

.pro

Professions domains Whois Database

310K

.xxx

Adult entertainment domains Whois Database

100K

.cat

Catalan domains Whois Database

220K

.jobs

Employment domains Whois Database

50K

.aero

Air-transport domains Whois Database

4K

.coop

Cooperatives domains Whois Database

8K

…and many others
ccTLD WHOIS Database Download Options
We also have close to 80 million WHOIS records for ccTLD domains. Take a look at the available packages you can choose from below.
Domain

Description

# of records (approx.)

Bulk Download of all ccTLD Whois Data

80MM

including .africa-bundle

Africa

2MM

including .asia-bundle

Asia

8MM

including .europe-bundle

Europe

54MM

including .ncamerica-bundle

North & Central America

6.5MM

including .oceania-bundle

Oceania

5MM

including .samerica-bundle

South America

3MM
Bulk Regional WHOIS Datasets
If your requirements are limited to WHOIS information in specific geographies, we offer bulk regional WHOIS database downloads as well.
| | |
| --- | --- |
| Description | # of records (approx.) |
| Bulk Download Whois Database of all ccTLD Domain | |
| United States of America Whois Database | 2.1MM |
| Australia Whois Database | 1.9MM |
| United Kingdom Whois Database | 11MM |
| China Whois Database | 3.5MM |
| …and m any others | |
Other WHOIS Database Download Bundles Currently Not on Our List of Offerings
If our current offerings don't match your data or format needs, we'd be happy to create a tailor-fit package for you. For more details on pricing or any questions, feel free to contact us.